Quantity Surveyors, Estimators & Cost Consultants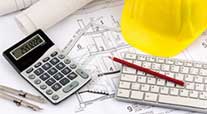 From individual private residences to large commercial construction projects, Clemington Surveying are a small independent consultancy specialising in cost modelling & planning as well as all the traditional quantity surveying services you'd expect from a practice.
There's a lot more to quantity surveying than 'counting bricks!' essentially we're a cross between Accountants and Solicitors for the building industry; we look after the financial & contractual side of any building project.
We can advise you at the beginning, the end or all the way through your project; on either a one-off, short-term or long-term basis.
To see how we can help you, please click on the appropriate link below or call David on 07788 118553 today; we're happy to meet on a nothing ventured, nothing gained basis.